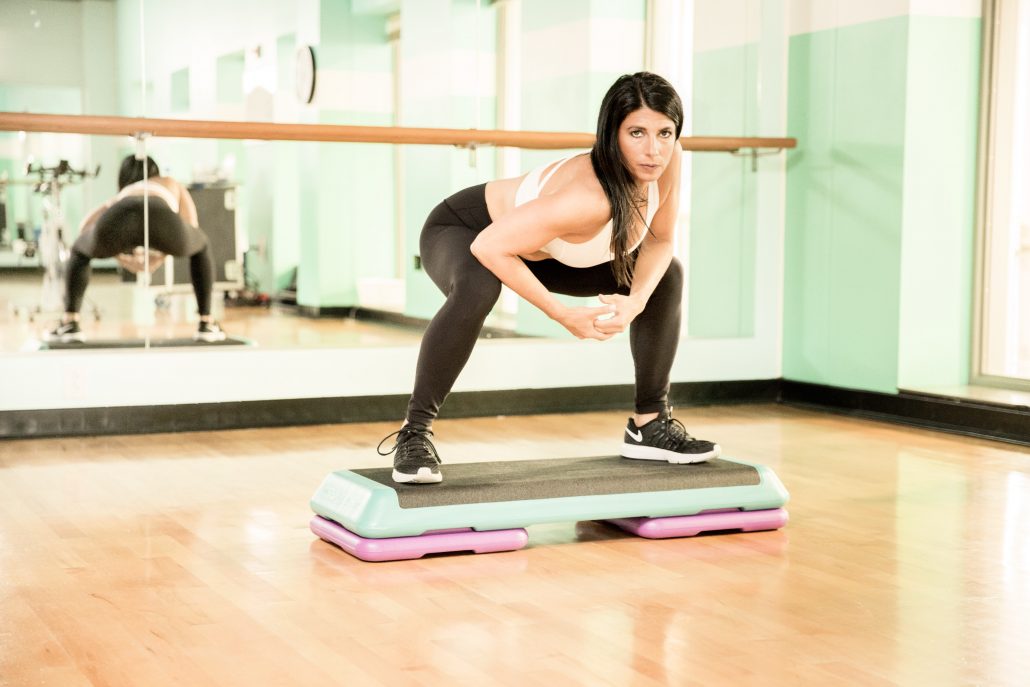 Barre Fitness
A ballet barre workout.  Barre class is a combination of Pilates, Yoga and Ballet movements.  This class will sculpt and lengthen muscles while strengthening them.  You will focus on flexibility, balance and core awareness.
Boot Camp
Boot Camp is a cardio class consisting of various drills to accelerate your heart rate, while burning calories and fat.  The Boot Camp format also offers the added benefit of mental and physical discipline.
Cardio Interval
An energetic mix of cardiovascular exercise and strength training. This class alternates between cardio and sculpting intervals. This is a great workout for your whole body and revs up your metabolism. Abdominal work is included, and the class concludes with stretching exercises.
Kickboxing
Instructor leads participants though punches, kicks, lunges and shuffles to fun upbeat music while blasting fat and burning calories.  This class also serves as an all-over body sculpting class.
Power Sculpt/Power Pump
Power Sculpt is an invigorating and highly energetic strength training class.  Class begins with ten minutes of cardiovascular exercises and stretching to elevate the heart rate and warm up your body.  Forty minutes of super sets, a series of exercises carried out without any recovery and with decreasing intensity, alternating upper and lower-body muscle groups follows.  You will look forward to carrying out the super sets because they are so challenging and different from basic strength training. The class concludes with intense abdominal exercises and a final relaxing stretch.  Class is designed to accommodate the beginner to the most advanced exerciser.
Spinning
Spinning or indoor cycling is fun and challenging!  The instructor sets the "course" and puts it energetic music. Spinning enables your heart and lungs to function more efficiently, ultimately improving cardiovascular endurance and reducing overall body fat.  Students will change their resistance to simulate riding up or down hills or flats.  Each student ultimately determines the intensity of their workout.  Wear comfortable clothes and stiff shoes or indoor cycling shoes with cleats.  Participants must bring a water bottle and are strongly encouraged to wear a heart-rate monitor for maximum effectiveness.
Step
Discover the total body, fat burning way to stay in shape.  The step workout is for a wide range of fitness levels.  Adjusting the height of the step can easily modify the intensity level of the workout.  The class incorporates fun and challenging choreography and constant movement.
Yoga (Basic or Gentle)
This class is designed to warm your body from the inside out.  It explores gentle movements to increase flexibility, strength and well-being.  Students are led through stretches, yoga postures and breathing practices, and then guided into deep relaxation.  Ideal for those with chronic pain or stress, those returning from illness or injury, or anyone who would like a gentle approach to practicing yoga.
Yoga (Vinyasa)
Turn up the internal heat as this class leads you through a flow of vigorous and challenging moves with a strong emphasis on mindfulness and breath control focusing on safe and healthy alignment.  Vinyasa means to "flow" or link one movement into the next one while coordinating each movement with pranyama (breath).  Over time, you will develop greater muscular strength, endurance and flexibility.  The class is recommended for the continuing yoga practitioner with a moderate fitness level.
Zumba
Zumba (Latin Cadio Dance) combines high energy and motivating music with unique moves and combinations that allow the Zumba participants to dance away their worries. It is based on the principle that a workout should be fun and easy to do, allowing you you to stick with a program and achieve long-term health benefits.  Zumba is a "feel-happy" workout that is great for mind and body.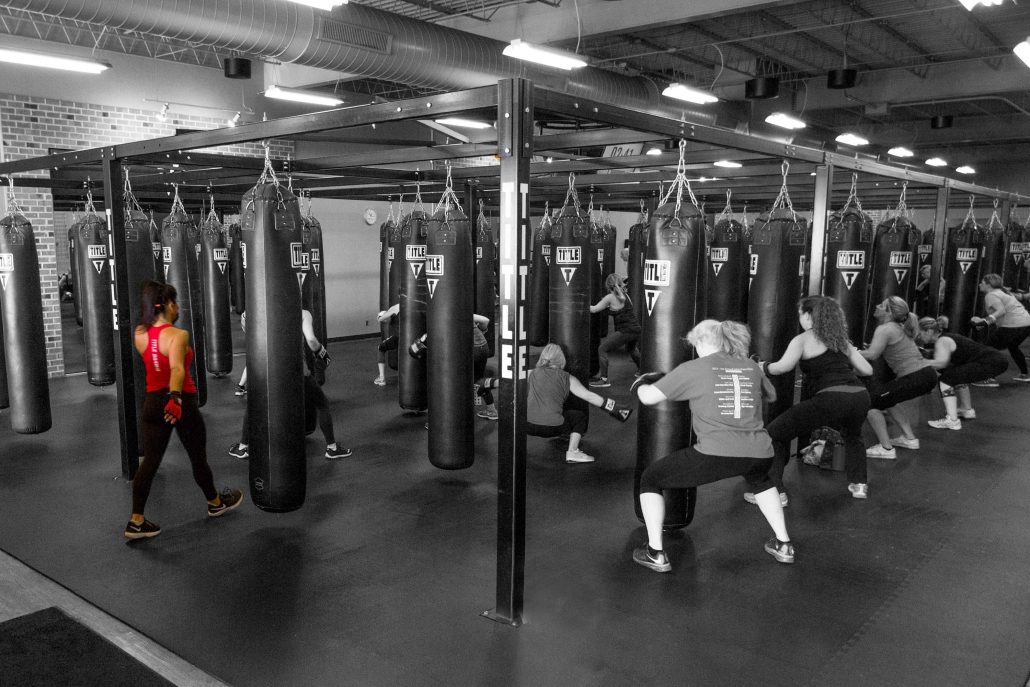 Boxing Power Hour
The Power Hour is unlike any fitness class you've taken. Every Power Hour bursts with energy and is fueled by persistence. Professional trainers lead you through the intense hour-long sequences of exercises.  This high-intensity interval training workout sculpts your body and burns calories like nothing you've experienced before. Your trainer will lead you through explosive boxing rounds where you'll deliver jab, cross, hook and uppercut combinations, working your entire body on our 100-pound heavy bags.
You decide how hard you hit at every Power Hour. We welcome beginners and pros and everyone in between. Just come ready to commit to a fun hour of muscle building, calorie burning fun and fitness. Come see why Power Hours are not like anything else—try your First Shot at TITLE Boxing Club Free!