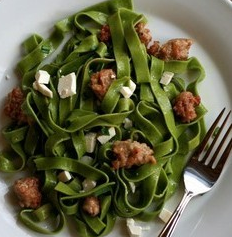 Submitted by Susan Azzarello
¾ lb. Feta cheese
1 lb. spinach fettuccini (or fusili), cooked al dente,
drained and cooled
¼ c. chopped red onion
½ c. drained and chopped sundried tomatoes
1 c. Kalamata olives, pitted
3 c. thinly sliced baby spinach
Dressing

:
½ c. virgin olive oil
3 Tbsp. red wine vinegar
1 clove garlic, crushed
½ tsp. salt
Freshly ground black pepper to taste
Crumble feta cheese over pasta. Add red onion, sundried tomatoes, olives and spinach; toss.  Combine dressing ingredients and mix well.  Pour dressing over pasta, toss well.  Can be served at this point but best kept marinating overnight in refrigerator.  After sitting overnight pasta absorbs much of the dressing. Can add additional dressing before serving. Makes 8 -10 servings.
See other recipes.
/
http://www.feelinalive.com/wp-content/uploads/2010/02/Screen-shot-2010-02-06-at-11.36.10-PM.png
237
232
Frannie Danzinger
http://www.feelinalive.com/wp-content/uploads/FeelinAlive-Logo-Draft-1.png
Frannie Danzinger
2010-02-06 23:00:59
2017-06-25 13:53:58
Spinach Fettuccini Salad