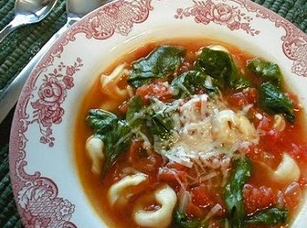 Submitted by Michelle Luciano
2 T olive oil
2 ounce pancetta, finely diced
3 cloves garlic, minced
1 medium onion, finely chopped
9 cups chicken broth
2t dried Italian herb blend
9-ounce best-quality commercial spinach or cheese
tortellini
1 can (28 ounces) crushed tomatoes packed in puree
8 ounces fresh spinach, rinsed well, stemmed and coarsely
chopped
Salt and black pepper to taste
1 cup freshly grated Parmesan cheese
Heat the olive oil in a stockpot over medium-high heat.  Add the pancetta, garlic and onion; stir frequently, until browned, 10 to 15 minutes.  Add the chicken broth and Italian herbs.  Bring to a boil and stir Tortellini.  Simmer uncovered until tortellini is cooked, about 10 minutes. Stir in the crushed tomatoes and simmer another 5 minutes.  Add the spinach and cook until wilted, about 3 minutes. Season to taste with salt and pepper.
Ladle the hot soap into bowls and top with a liberal sprinkling of grated Parmesan.
I make this soup all the time; it only takes about 30 minutes. It is from Cold Weather Cooking by Sarah Lee Chase.  My picky Italian husband doesn't like the tortellini to get over cooked, so I leave them on the side and add them as I serve the soup.
See other recipes.
/
http://www.feelinalive.com/wp-content/uploads/2010/03/Screen-shot-2010-03-26-at-4.13.31-PM.png
228
307
Frannie Danzinger
http://www.feelinalive.com/wp-content/uploads/FeelinAlive-Logo-Draft-1.png
Frannie Danzinger
2010-02-06 13:10:59
2017-06-25 13:24:46
Tortellini and Spinach Soup