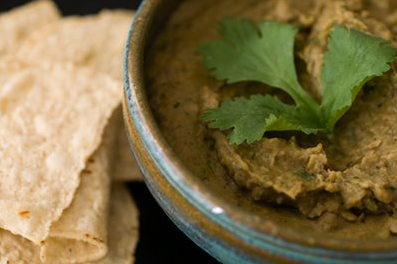 Submitted by Michelle Holmes
2 (15.8 ounce) cans black-eyed peas, drained
1 (14.5 ounce) can of petite-diced tomatoes, drained
2 fresh medium jalapenos, stemmed, seeded and minced(canned jalapenos work too)
1 small onion, diced
½ yellow pepper, stemmed, seeded and cut into small pieces
¼ cup chopped fresh cilantro
6 tbsp. red wine vinegar
6 tbsp. olive oil
½ tsp. salt
½ tsp. ground black pepper
½ tsp. garlic powder
1 tsp. dried oregano
1 ½ tsp. ground cumin
Mix all ingredients in medium bowl; cover and refrigerate 2 hours or up to 2 days. Before serving, adjust seasonings to taste, adding extra vinegar, salt and pepper.
Transfer to serving bowl. Serve with corn tortilla chips.
*I learned how to create this really popular appetizer at the Loretta Paganini School of Cooking.  It is a healthy and tasty dish!*
See other recipes.
/
http://www.feelinalive.com/wp-content/uploads/2010/01/Screen-shot-2010-02-06-at-10.12.33-AM5.png
264
397
Frannie Danzinger
http://www.feelinalive.com/wp-content/uploads/FeelinAlive-Logo-Draft-1.png
Frannie Danzinger
2010-02-06 12:53:38
2017-06-25 13:09:34
Black-Eyed Pea Dip